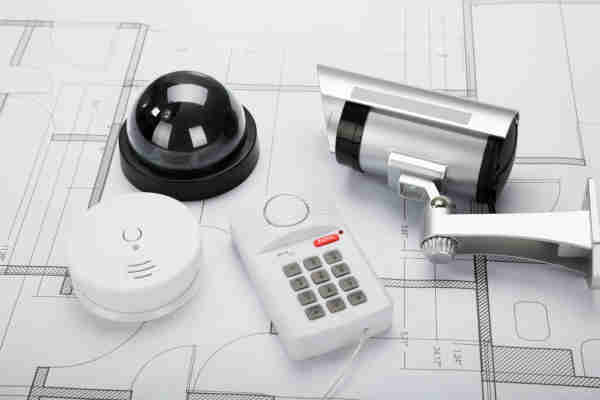 Security In Your Home
A modern day home is a treasure-trove of electronics, devices and other valuables. The Association of British Insurers estimates that the average 3-bedroom family home contains items worth a total of £55,000, protecting these items and your family should be a priority.
It takes a thief around 30seconds to break into a standard UPVC door (Euro Profile Cylinder), this is the most popular type of door in the U.K. With millions of homes at risk, there is something you can do to make an intruders life more difficult.
By upgrading your locks from standard to Anti-snap, you will force the intruders into a more difficult process which increases the time it takes for them to gain entry. This in turn increases the chance of them being caught. This is just one of the ways that you can increase your homes security.
Some more traditional doors have a Yale type lock, these can also be bypassed quickly in some cases just with a credit card. While this can make our job getting you back into your property easier, it also means you are extremely vulnerable to opportunist thieves. Most rim locks now have a deadbolt to stop this type of break-in, however a determined thief can still gain access by drilling the lock. Fortunately, this method can also be stopped by upgrading your locks to anti-drill, this will make if difficult for even a trained locksmith to gain entry.
Securing your home means being vigilant in locking your doors and windows when you leave the property, by adding some basic measures you can increase both your security and lower the risk of a break-in. Our locksmiths provide a valuable service in helping you understand what you can do to to improve the integrity of your home.
Its also advisable to invest in a good security system, unfortunately these are reactions devices rather than preventative, meaning that an intruder is usually already in your home. However, home alarm systems do provide an immediate threat to any intruders activities, drawing attention to your home or local security company.
At Glasgow locksmith service, we work hard to ensure that your property is as secure as possible, using the latest lock technology to create a barrier between you and potential intruders. Our trained team of locksmiths have already replaced thousands of locks, giving home owners peace of mind that they are takin all precautions necessary to protect their home.
There are a number of properties in Glasgow that still operate with old doors and old Yale locks, as we stated before these are especially susceptible to break-ins and we would advise you to contact us immediately to upgrade your lock. We are available 24/7 and carry a large range of locks with us so we can find a suitable option for your budget.
High-security locks start from around £45 per lock, this really is a small expense when you consider what is at stake…An average house has two doors, this would require two locks, with our labor charge you are paying less than £160 to significantly upgrade the security of your property.
So for a free quotation or to book one of our technicians, please don't hesitate to email or call us, together we will make your home as safe as it can be.
How to become a locksmith
Entering into training as a locksmith is like any other career, but the locksmith trade has some special characteristics that make it a bit unique in the trades. Firstly, most locksmiths, especially initially, are on call 24 hours a day. This is quite a change in lifestyle for most, and it can make planning a bit difficult, especially for locksmiths either just starting or with an established family. If you're young and just getting started, it's not that big of an adjustment.
The first thing to do is research courses. There are big differences between the type of courses offered. Some are one on one, others are in a group. When looking for a course, don't just look in your own city. It can definitely be worth it to shop around, even if you have to go to another city.
Here are some other tips:
Try to find a good one on one course, rather than a group course. Group courses are expensive and often don't allow the time you need to spend on a lock in order to pick it.
All courses aren't made equal. Make sure the focus is on non-destructive entry
Look for a course that lasts at least four days to teach you everything.
Shop around
Ask about placement with companies or if they assist in setting up a business
A good locksmith course will teach non-destructive entry. There are sadly way too many courses that make "drill monkeys". These are locksmiths that are taught one thing and one thing only, and that's how to use a drill to open a lock. This makes the process more expensive for the customer, because now the cylinder or shaft must be replaced, in addition to the normal cost. Many disreputable companies employ only employees who know how to drill, and instruct them to do so. The problem is, if for some reason (and it happens), drilling out the lock still doesn't open it, then there's nothing more the "locksmith" can do. That's why we locksmiths call such a "locksmith" a "drill monkey".
Once you've had your training, you'll need a few more things. Firstly, you'll need a shirt and vehicle, preferably a van that you can outfit. If you go to work straight away for a locksmith company, then they will provide this for you. If you opt to subcontract or work for yourself, you will need to get this.
Here are some other things you'll need:
"Stock" that is to say, the locks and key blanks you'll need for the job.
Company name and shirt / jacket with that name on it
Preferably a van marked with your logo.
Website!
Estimate about 3000 pounds for kit and stock, and tools if you want to be well prepared and working on your own. You'll need to find a locksmith supply company and set up a line of credit or account with them.
A vehicle is a must have, preferably a van with all of your tools and equipment inside. You'll want to outfit the interior as well, but you should seek advice from your trainer on this, because configurations vary widely and are up to the individual locksmith. Most of the lockies I know take a lot of pride in their van, and have built the interiors themselves. Another good tip is to wait a bit before you do this, you need to see how the actual day to day job goes, before you best know how to customize your van's interior. There are some great videos on Youtube of lockies from all over the world, showing off their vans, you can look there for some inspiration.
A company name and shirt is one of the absolute necessities. Without one, you will constantly have to explain yourself and your skills to every customer you encounter. No one will take you seriously if you look like you just began working yesterday. Remember who you are and what you represent, you are someone who can open the door without the key to someone's home. Do you want some bloke who looks like he came directly from the pub doing that for you? Would you let that person into your home? Of course not, and don't expect to be treated any differently. The more professional you look, the less problems you will have. This goes for hair, facial hair, general hygiene (cleanliness and smell), and whether or not your clothes are clean. If you don't do this, you'll lose money, both upfront on cancelled jobs (some will refuse to allow you to work) and later on if there's a problem, the customer may assume it's your fault automatically because of your appearance the first time you arrived.
Finally, invest in a professional website. I do not recommend you do this on your own, it will take you far too long, even if a website service claims it's "DIY" and "even a baby could do it". No, sorry, there's way too much there, and it will take you a week or longer to sort it all out, and in the end you'll probably hire someone anyway, or you'll have a terrible website. Leave it to the pros, they'll optimize it as best can be, and that will allow you to get some real money coming in.
I hope this helps you get well on your way to building the type of career you want to have in the locksmith industry. Depending on whether or not you choose to work for yourself or work on an established team, there are many more steps, but don't be intimidated, you'll get to where you want to go.